The Journal Veterinarski Glasnik is dedicated to all aspects of veterinary science and medicine.
2017-02-11
Users of EndNote, Mendeley Desktop and Zotero can easily install the citation style for Veterinarski Glasnik.
Vol 72 No 2 (2018): Veterinarski glasnik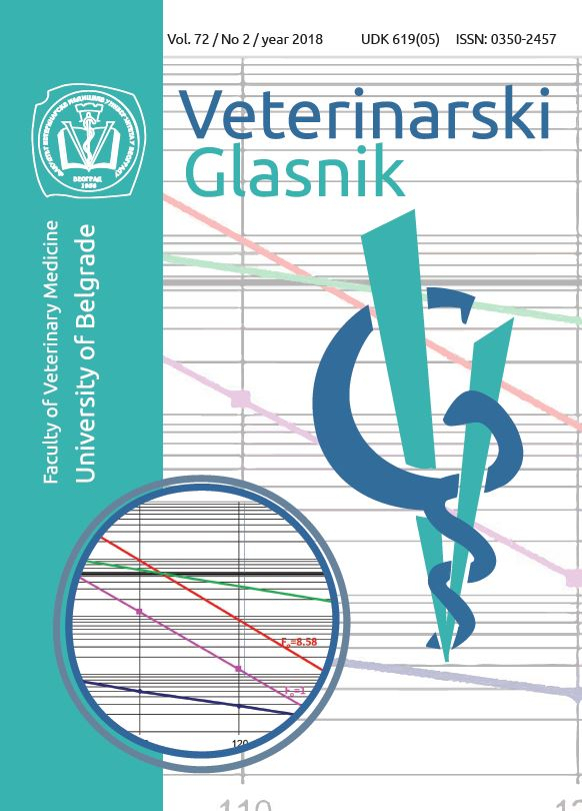 The cover image, by Rašeta et al., is based on the Article Determination of Co-value as an indicator of nutritive value of pâté sterilised by regular and optimized regimes, https://doi.org/10.2298/VETGL180711011R
Published: 2018-11-16
View All Issues
---

Veterinarski Glasnik was launched in 1904 to offer researchers and professionals in the region and worldwide a place to publish their research findings and work. The Journal is devoted to the advancement and dissemination of scientific knowledge concerning veterinary sciences and related academic disciplines. Veterinarski Glasnik is an open access, peer-reviewed scientific journal published by the University of Belgrade, Faculty of Veterinary Medicine, Serbia, and dedicated to the publication of full research papers, reviews articles, mini review articles, short communications, technical reports, case reports, what is your diagnosis?, and letters to the Editor. Veterinarski Glasnik is published in English, with summaries in English and Serbian, in yearly volumes comprising two issues, on an Open Access model which allows high visibility of articles. Veterinarski Glasnik is indexed as a national journal. Each manuscript will be handled by two reviewers providing quality editorial processing. The instructions for manuscript submission, paper preparing, peer-review procedure and all other details are available on the Journal homepage (Author Guidelines). This site will guide Authors stepwise through the submission process.
---
Registration and/or login are required to submit items online and to check the status of current submissions. If you already have a username and password for Veterinarski Glasnik, continue to the Login Page. If you are not registered with this site, you need to fill in and submit the form available on the Registration Page.
---
Veterinarski Glasnik is an Open Access Journal. All articles can be downloaded free of charge and used in accordance with the Creative Commons Attribution 4.0 International License (CC BY 4.0).
---